As a professional Temecula SEO company, Just A Web Company, Inc. is geographically positioned to help clients all over Southern California.
We are conveniently located right off of the 15 freeway and Winchester in Temecula, CA.
Our team can meet in person with clients all over the Temecula Valley including Murrieta, Menifee, Lake Elsinore and more!
We are a full-service, award-winning digital marketing agency providing services from pay per click to web design to custom application development.
Just A Web Company is experienced in multiple verticals and across a mix of B2B, B2C, profit and non-profit industries. Our team has decades of experience and can deliver the results you need to achieve your goals!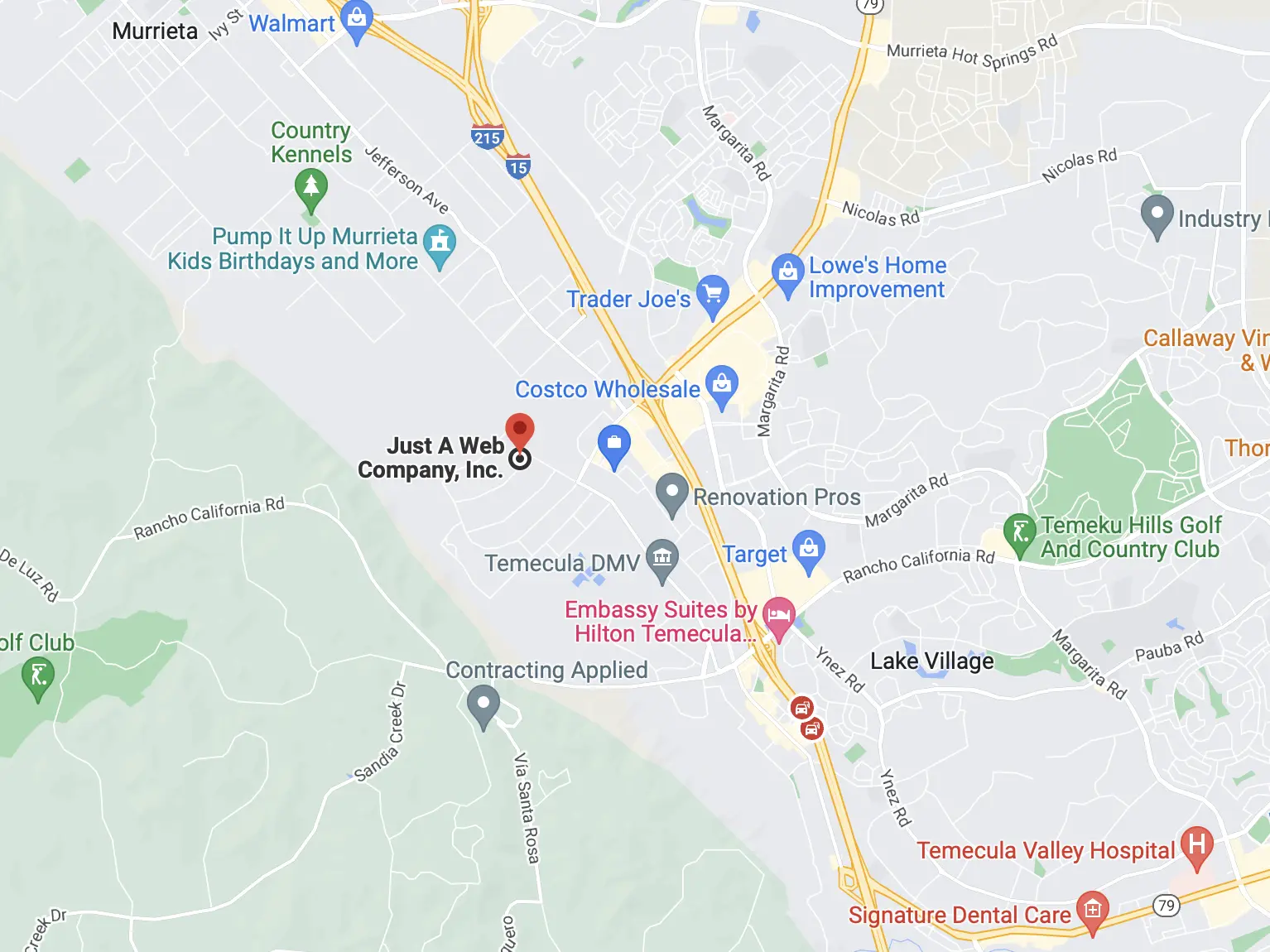 ---
What goes into our SEO strategy?
We start with careful analysis of your current website. We look at the content structure, links that are coming to your website and internal linking between pages. In addition, we dive deep and look at your code base, https or site security, site speed, minimization of files, visitor loss due to how long it takes your site to load and much more. Website optimization is key for any successful marketing campaign.
Because we employee both professional developers, google certified specialists and expert content writers, we give our customers an advantage over their competition. Due to the volume of business we manage, we have dedicated support staff at Google and Facebook. Does your SEO agency have that?
Search engine optimization is vital for businesses to succeed. Most of our clients see results in the first 60 days of starting a campaign.
---
What should you expect from your Temecula SEO company?
In today's digital age, commerce has shifted from the Yellow Pages of the past to online marketing. No matter the service or the product, more people are turning toward the Internet than ever before to find what they need. With Google as the number one search engine of choice, you want your business and its website to show up high on the first page of Google's search results.
---
What Is SEO?
Search engine optimization, or SEO, is an important aspect of your digital marketing strategy. It helps generate more organic, or free, traffic from search engines and social media platforms like Google, Bing, Yahoo, Facebook, Instagram, and Twitter.
Website ranking is among the most important factors. This strategy is about boosting more organic traffic as opposed to paid search traffic using ads. When your company website is well-optimized, it will appear higher in the search engine results pages (SERPs) when someone searches for the terms, or keywords, related to your business. This, in turn, helps your business gain more potential clients and increase profits. An added benefit is that organic search results appear more credible to users than targeted ads. When your company website is well-optimized, it will appear higher in the search engine results pages (SERPs) when someone searches for the terms, or keywords, related to your business. This, in turn, helps your business gain more potential clients and increase profits. An added benefit is that organic search results appear more credible to users than targeted ads.
Out of all the marketing tactics available to business owners, improving your ranking within Google and other search engine pages is vital to growing your leads, improving your sales, and increasing the return spent on your digital marketing.
Keep in mind, though, that every business is unique, so what might work for one business might not work for yours. Search engine optimization also takes a lot of time and effort to grow and show results, leaving you with less time to spend on your company.
If you want to boost your business' visibility online, but don't have the time to do so or have no clue where to start, contact us at Just A Web Company, Inc. We'll be more than happy to meet with you and discuss what strategies will work for your business needs.
Our company specializes in traditional and local SEO in Temecula. We can guide you through the process of creating and implementing a strategy that helps you reach your targeted audience using the best practices in the industry.
---
Types Of Organic SEO Services
There are multiple tactics that in to getting your page on to show up on Google and Bing. Depending on where you want your page to show will depend on the strategies involved. One of the most popular places for people appear are in the organic blue links outlined in the picture below: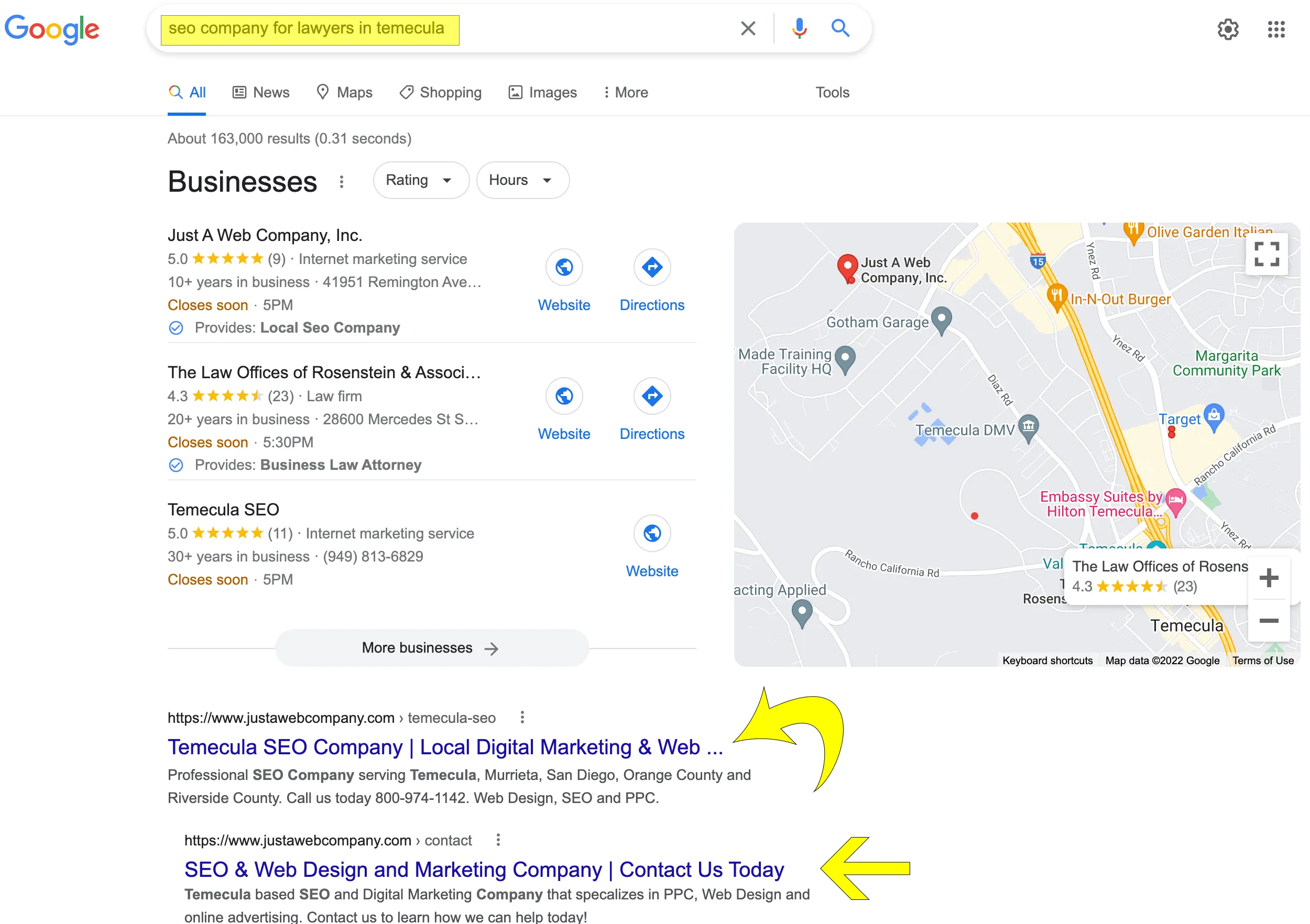 Just A Web Company offers search engine optimization services in Temecula that can help boost your online visibility in the area. We take care of keyword research, content marketing, website audits, and more to help you rank higher on SERPs. What makes us unique is our variety of services, acting as a one-stop shop for our clients. Whatever your particular situation or budget, the goal is to ultimately capture more search traffic and brand awareness for your business.
There are many ways to begin your search engine optimization journey, but the strategies are typically grouped under four categories: on-page, off-page, technical, and local optimization. All four types are equally important in helping your website rank highly within search engines. Here is a brief look at which search engine optimization services your website needs to perform well in your industry.
---
On-Page SEO
On-page optimization refers to the specific actions and techniques responsible for optimizing the content and structure of your website. Important factors include keyword research, content creation and optimization, meta titles, meta descriptions, alternate text, mobile-friendly designs, and the overall website's messaging.
Our expert team has the skill and knowledge to do all this for you. We have expert writers and website developers who can create the best content for your website, so you focus on running your business. You get none of the hassle and all the reward.
---
Our on-page optimization services include:
Conducting keyword research
Creating meta titles
Creating meta descriptions
Optimizing URLs
Creating appropriate heading tags
Writing and optimizing content
Designing a mobile-friendly website
Optimizing website structure
Implementing schema
---
Off-Page SEO
Off-page optimization encompasses any efforts outside of your website to boost its visibility. The focus is on link building and other related activities, such as guest blogging or client reviews, that are not part of your website. Combined with on-page techniques, this creates a holistic approach to your SEO marketing strategy that attempts to rank your site as highly as possible on SERPs.
It can be difficult to find the time to focus on off-page optimization. Keeping track of your business listings, social profiles, and website all at the same time can overwhelm even the most determined of business owners. We understand that not everyone can be a content factory or keep an eye out for incorrect addresses and malicious links. That's why are expert team can help you, by handling all the time-consuming tasks of off-page strategies so you can focus on your business and reap the benefits.
---
Our off-page services include:
Updating your business listings
Adding business listings to reputable directories
Creating social profiles and posts
Monitoring and managing backlinks
---
Technical SEO
Technical SEO is a specific area of digital marketing that focuses on a variety of different tactics to improve a website's performance. This includes boosting site speeds, cleaning up the overall structure, and improving the metadata available to search engines. Technical strategies ensure your site is easy to use for both visitors and search engine bots that crawl your website to gather information on your business.
The bottom line is, website matters. We are the only SEO company in Temecula that can offer the kind of results you need to succeed. Below is an example of the typical results our clients benefit from when it comes website loading speeds. Keep in mind there are two sets of results from page speed reports, mobile and desktop. Google uses a mobile first index and the only speed that matters is mobile.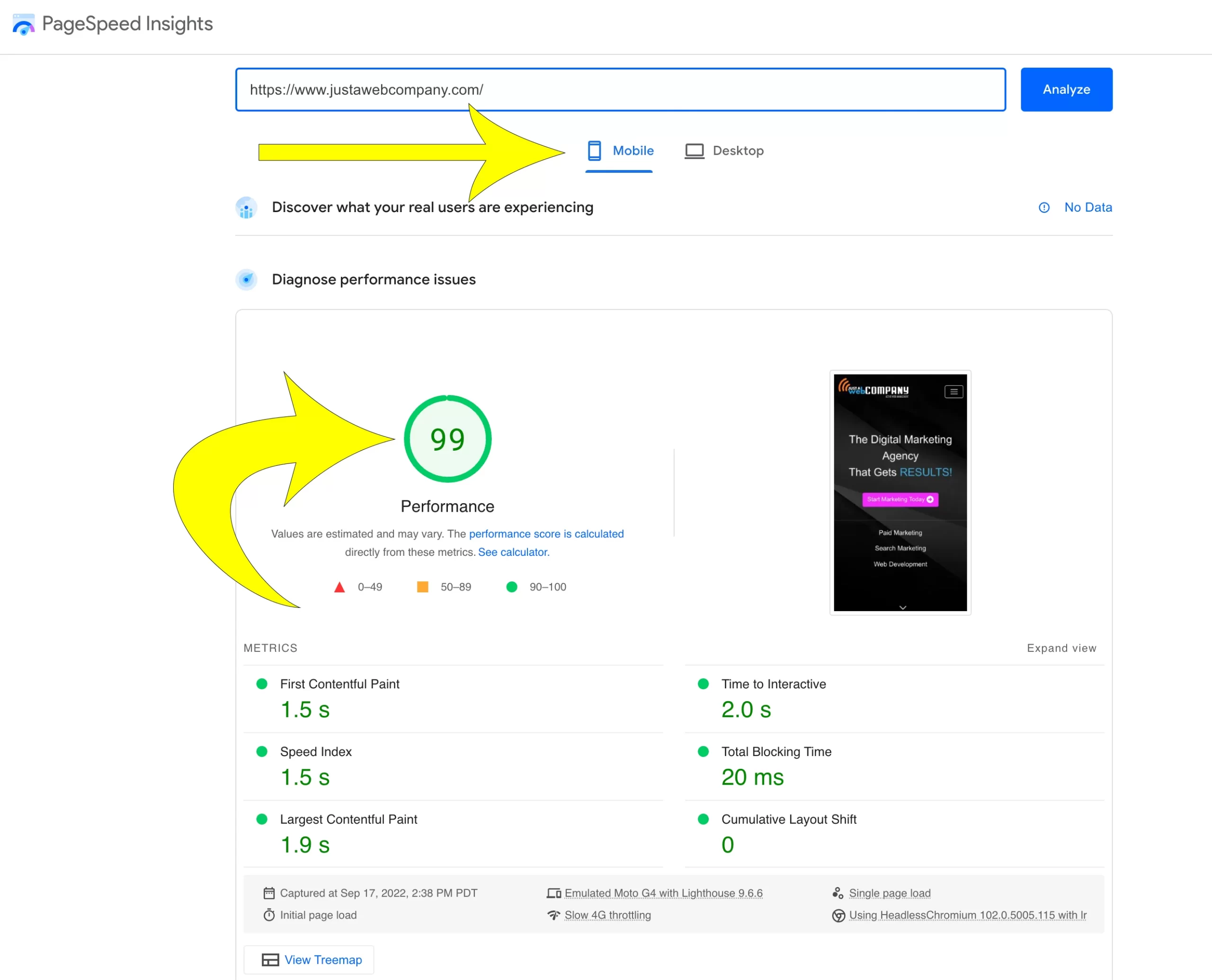 Unfortunately, most business owners have little to no time to focus on maintaining their website. It can be a long, and difficult, process that takes hours away from the business itself. With Just A Web Company, you can let our team handle all the work it takes to have a successful and well-designed website. We have the knowledge and experience to expertly craft and maintain a professional looking website for your business.
---
Our technical SEO services include:
Regular site audits
Active site monitoring
Site speed optimization
Structured data implementation
Mobile friendly design
Optimized site structure
Removing or fixing dead links
Creating redirects
Removing duplicate content
Maintaining an XML sitemap
---
Local SEO
Local search optimization is one of the most effective online marketing strategies for any local business in the Temecula area. The purpose of local optimization is to rank your website for specific, geographic terms, which attracts nearby customers in the Temecula, Murrieta, or greater Inland Empire. This includes any searches that end with 'nearby' or 'near me," or more specific searches such as "PPC company Temecula."
Local SEO helps customers find your business by displaying your listing at the very top of the search results in what is know as the "map pack" or "local pack".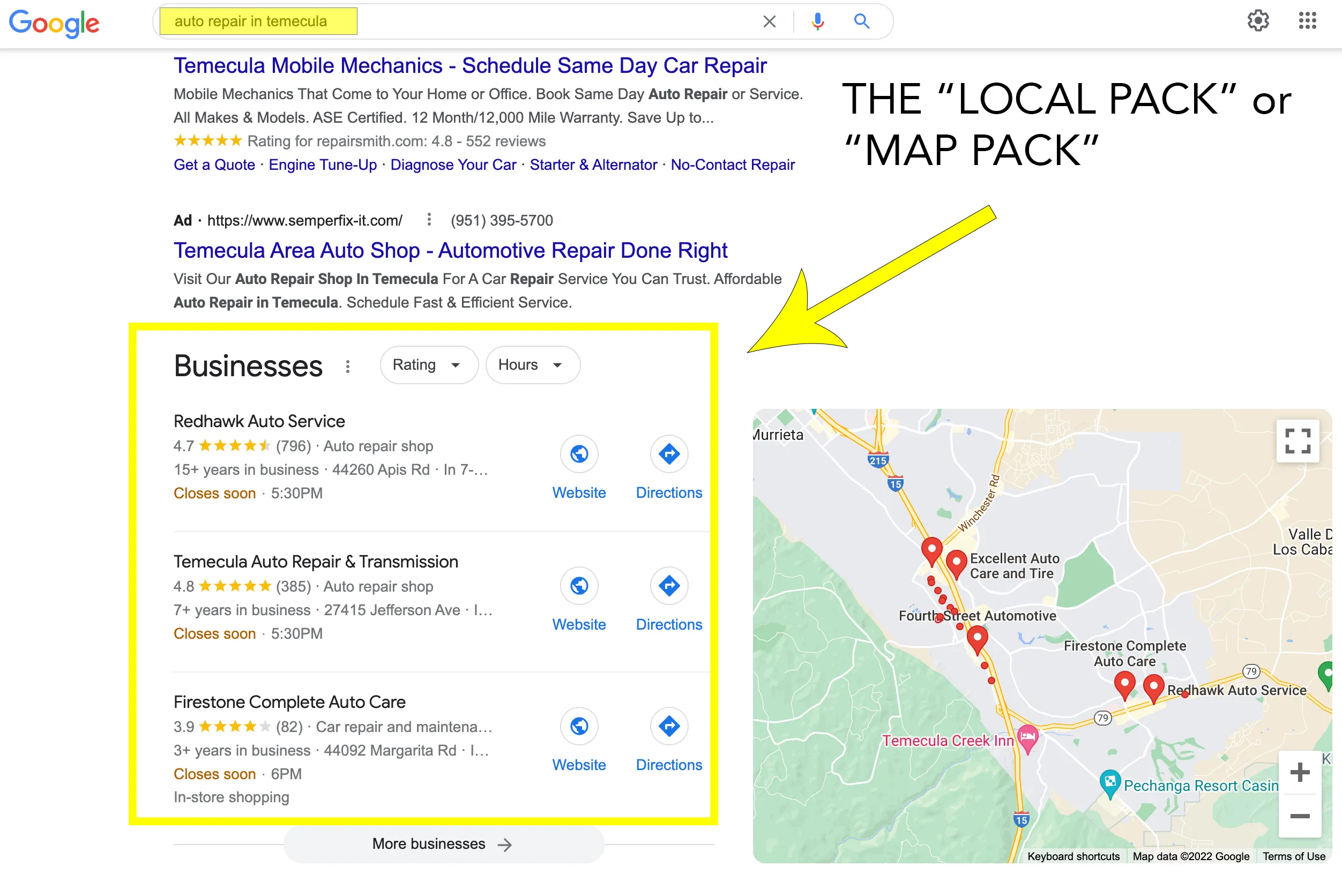 Local search optimization, while similar to traditional SEO, requires a set of different tactics and skills to get your company's website ranking highly in SERPs. Not everyone has the knowledge to successfully run a local campaign on their own. With our team of experts, you don't have to worry about trying to do this process all on your own. We help create and implement a local SEO strategy to increase your online visibility in the Temecula community and beyond.
---
Our local optimization services include:
Creating and managing your Google Business Profile (GBP)
Optimizing your GBP
Monitoring additional listings for consistency
Backlinks, citations, and off-site optimization
Optimizing local landing pages
Optimizing your website
Relevant content using local keywords and phrases
Location-focused data structures
---
Benefits Of SEO Services
Search engine optimization can be a great way to boost your online presence and help drive traffic to your site, though these benefits are just the tip of the iceberg. SEO is one of the most sustainable ways to boost your business' overall online visibility.
It isn't just about creating a well-designed website, but a profitable one as well. This can help your business stand out among other businesses in your area and prioritizes the quality of the content over the quantity.
The benefits include:
Increased Organic Traffic: Few, if any, people search beyond the first page of a Google results page. Search engine optimization focuses on getting you to rank highly enough to make it to the first page, which attracts more potential clients and organic traffic passively.
Optimized Content: Content marketing is a great way to grab your readers' attention. The more informative and well written your content, the more conversions (paying clients) you'll receive. Best practices for optimization automatically encourage high quality, readable content.
Improved PPC Campaigns: SEO is a great complement to your PPC campaigns. While paid advertising can get you immediate results, search engine optimization ensures you experience long-term growth in visibility. It also necessitates keyword research, which helps you better optimize your PPC campaigns.
Stronger Brand Identity: Search engine optimization allows you to create a consistent brand image through content, photos, videos, and other related media. Part of keeping your business successful is making your brand instantly recognizable and at the forefront of potential customers' minds. This can lead to repeat and loyal customers, as well as establishing your reputation as a helpful business in the area.
Targeted Audiences: A great thing about optimization is that it allows you to target a specific audience, whether that's in your industry or your local region. Using industry or geographic specific terms lets search engines know what your business is about and allows them to show you to the relevant users.
A Competitive Edge: Search engine optimization can give you the upper hand when it comes to your business. Many companies neglect or fail to focus on their SEO, giving you the competitive edge you need to attract more paying customers.
---
Temecula PPC Company
We not only excel in SEO, but we are also a Temecula pay per click company. As a complement to our award-winning SEO strategies, we also provide PPC Management services. If you are looking to get more out of your paid advertising, we can help!
If you would like to increase your exposure, grow your customer base and increase your revenue, you need to partner with a winning team of experts. We can meet same day with customers in the Temecula, Murrieta, San Diego, Orange County, and Riverside areas.
Call us today at 800.974.1142 to talk to a live person and learn how we can help grow your business.
---
Why Choose Just A Web Company As Your Temecula Internet Marketing Agency?
There are many SEO companies in Temecula that claim to help your business succeed, but that doesn't mean you're guaranteed the desired results. For a successful campaign, you need a dedicated team willing to work with you to build your business the way you want it. Every business is unique, so it only makes sense our approach to your goals would be unique, too.
Our SEO marketing team in Temecula believes in offering user-friendly and cost-effective services, so you get the best return on investment by working with us. Our dedicated experts work closely with you to understand your specific business niche, so we can use the best, most relevant, and beneficial SEO techniques for your website.
We value your input and pride ourselves on our honesty and transparency about the entire process. Our team can answer your questions and concerns thoroughly, giving you a better understanding of how your website is performing and how it might improve.
We put extra effort into conducting extensive research to find relevant keywords for your company. Unlike some unscrupulous SEO marketing agencies, we strictly avoid "black hat" practices meant to trick search engines into artificially boosting your online visibility. Not only does this eventually fail, but it can greatly hurt any organic results you might have seen!
Our results are solely based on "white hat" techniques, so you can continue to benefit from our work long after you've worked with us. We also keep up to date on the best SEO practices so you get the best results we can offer. We are a team of talented individuals who are passionate about their work. Our experts on the Temecula SEO team love finding solutions to the challenges our clients face in marketing their business.
Contact us today to learn more about how we can help your business boost its visibility online!